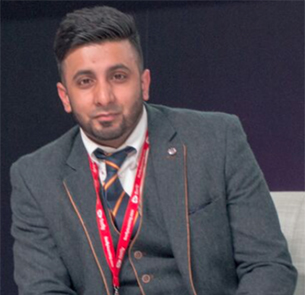 5 November 2021
Written by Rosie Coupe, Secondary SCITT trainee
This Friday we had the pleasure of meeting Amjad Ali, a motivational speaker who has over 30K followers on twitter! (@TeachLeadAAli). Most importantly, for four days a week, he is still a member of the teaching team at his school.
Amjad came with a flurry of ideas and inspiration for our Friday conference. This included how to present new information, how to connect and deepen students' ideas and various tips and tricks on how to best ensure students remember what we are teaching them. There was a general theme throughout the session that learning should promote the desire for more learning, and that when students are successful, they will seek more success. Amjad talked to us about behaviours and the routines required for learning. Here we focused on the language that we use in our day to day practice, and looked at how we can utilise giving subtle rewards within our classroom.
I particularly remember the phrase 'one tweak a week', which means in our teaching practice, we make one change per week and see if it makes a difference. Amjad included various stopping points throughout the sessions which enabled us to reflect upon how we were going to transfer what we had learnt into our short term planning (what we're going to do next week), medium term planning (what we're going to do in the next couple of months) and long term planning (what we may introduce at our next placement, for example). All in all, that this is the year for experimenting with the many different styles and ideas that we come across, but that we should always, ALWAYS remember to try, refine or ditch!