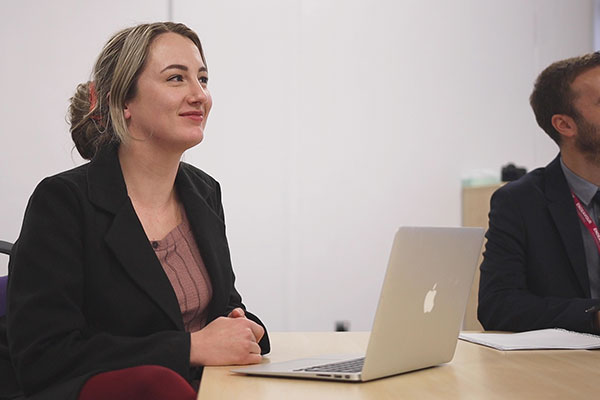 4 December 2020
Blog written by Naomi (SCITT Cohort 2020/21)

"Assessment is the bridge between teaching and learning." – Dylan William, Embedded Formative Assessment

This week's Friday Conference with Endeavour Learning was delivered by Roger Gwinnet and focused on an overview of assessment. The irony of the session was that Roger had visited me two days previously at Wellfield High School for that looming, overwhelming first placement lesson observation. A conclusion of my lesson linked directly with the concept of assessment.

Roger took the session in the usual style I imagine of him as a teacher; flamboyant and with his customary dry humour. We have never had a bad session with Roger because he injects that bit of character into our training sessions. Fortunately, it wasn't a particularly lacklustre topic. We looked at the difference between formative and summative assessment, and how they relate to assessment for and assessment of learning. Roger asked us to rate our confidence on the topic 1-5. We had a debate over whether the categories should be divided into two or four sections, and why. We even got to design our dream school. (My personal favourite was Steph's typical History teacher Greek style construction - that is where I expect to teach next year!)

When we got into the thick of the topic, the discussion explored how assessment is not a 'bolt-on' (if you will) but a natural skill that any good teacher uses weaved into their lesson instruction every day. Assessment for Learning (AfL) became a sort of gimmick technique about 5 years ago, when teachers were expected to create a plenary for each topic within a lesson, asking students to wave lollipop sticks and whiteboards. Roger emphasised that, whilst those are credible, effective strategies, it is how the teacher chooses to use them and what they inform that make good quality assessment.
We often consider assessment as marking 50 essays, or writing an end of year exam, or worst of all: GCSEs. We are the assessment strategies. We question students, give feedback in action, tip our heads over student work (in non-COVID circumstances, of course!). Assessment links teaching and learning together, by building communication between teachers and students and keeping ownership in that classroom right then and there.
I was very happy with my lesson feedback that week; Roger remarked on my persistence to keep challenging learners in class and narrating my expectations clearly. What I took away as constructive feedback was a clear learning objective and outcome to make my students clear about what they will be doing. And that, I guess, builds better assessment opportunity into my lesson. If my students know what they need to learn, and what they will do, I have every right to assess them on it.