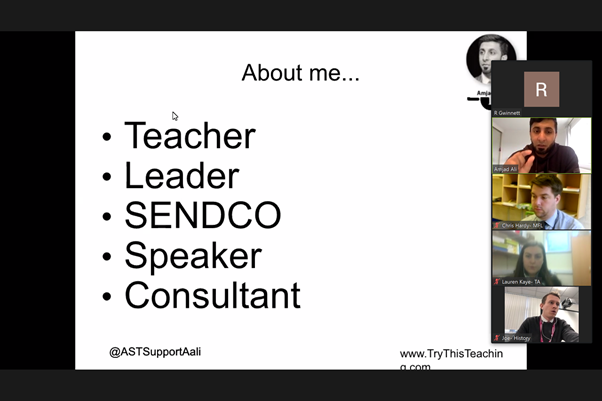 20 November 2020
Blog written by Joanne Grime (SCITT Cohort 2020/21)
Today in our Friday trainee conference we had a session with Amjad Ali focusing on SEN/D, which was great timing for me as we have an assignment due next week in which I am focusing on a SEND need. As I have already been researching ideas on how to help certain pupils with SEN/D this really built on what I had been doing – I am finding this with all the Friday conferences as the time goes on – everything we do seems to constantly build up our teaching ideas and practice perfectly. From speaking with other trainees, we all really enjoy Amjad's sessions, and we have already done two – this first was on teaching and learning ideas, and the second was on behaviour management. This means now we are starting to find that comments and ideas from previous sessions are all starting to pull together as we attend more sessions and are building our teaching up, and I know personally things that we are talking about I am seeing in my teaching and able to reflect on whether I will alter my teaching or if I will try new ideas out.
Today we had a session on general SEN/D issues and strategies to help learners with various SEN/D needs, such as how best to layout slides, how to use writing and reading tasks best, how to use listening and what strategies to use with learners who feel they struggle with reading and writing for example. We also looked at categories and labels given to learners with SEN/D, as well as the main barriers to learning for students. One of the really great things about these sessions is that we are not just taught strategies on how to help learners, but also how to consider how pupils may feel and how they may then respond in the classroom. This is something I have found really useful, having been a swimming teacher in a former life, and the partner of someone with dyslexia, I have worked with lots of learners who feel that they 'can't' learn in a typical classroom. Today we didn't just look at ideas to support and make the classroom easier for learners, but also looked at how we can use language, how to reframe our thinking and language to help learners feel more confident, empowered and successful, and that was something I really feel passionate about – that teachers don't just teach subject knowledge but also help to build passion, engagement and inspire our young people.
We also looked at something called 'Quality First Teaching' which is something I know the school I am currently placed in follows, which means building in strategies that support all pupils but benefit SEND learners best. One of the first things on this was having high expectations and not putting limits on students – not assuming they can't do something. On reflection I remember observing some lessons at the start of my SCITT course, and I spent a whole day with a nuture group – a group of young students who needed additional support and smaller groups to help them to achieve. I remember watching one experienced teacher who they really responded well to, and when discussing this with my mentor I remember saying 'he had high expectations of them and they really responded to that well' – this is something that has stuck with me over the last few weeks, and is just an example of how the sessions we do with Amjad, such as today's session, really help to 'bring it all together' and inspire us to get the best for each and every one of our students – exactly the teacher I want to be!