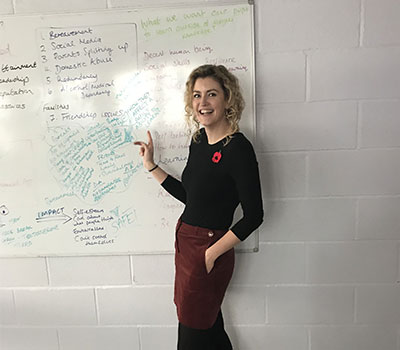 6 November 2020
Blog written by Matt Dicker (SCITT Cohort 2020/21)
Emily Hunter returned at the perfect moment for me in today's trainee conference. At the end of each school week, which on placement runs from Monday to Thursday, I get the chance to sit down with my mentor and discuss the last four days. We reflect on my teaching, address any issues that have arisen and set my objectives for the coming week in school. Yesterday, based on some of mine and my mentor's observations, we decided that one of my objectives will be to improve my dramatic performance of the curriculum. In particular, I want to tackle how to build excitement in lessons, where appropriate, and how to settle things down again afterwards. Emily's advice on classroom management in her first session was enlightening and I was excited to collect some more tips today.

I was not disappointed then to learn that half of today's session would address the effective use of voice in teaching. Emily explained how an effective teacher can employ the tone, volume and pace of their speech to set the atmosphere in a lesson and how subverting a student's expectations of the teachers response can grab their attention and defuse confrontational behaviour. More importantly, she demonstrated these routines explicitly, making real some of the concepts that can seem a little ambiguous as I begin to build some experience at the front of the classroom. Just as important though are the implicit techniques that Emily modelled during the session. For example, using humour to deflect blame from the students; I will be trying her "shout at me like I'm a 90-year-old" line with one of my quieter students next week. The session was a masterclass in raising/cooling the mood and Emily was able to reinject some energy that was robbed from her usual MO by the socially distanced setup and facemasks. I am excited to try a little of what I saw in my own classes next week.

In the other half of the session, we stepped into our students' shoes and explored the importance of focussing on the individual in teaching and pastoral care. We went in-depth into discussions on some of the factors that affect a student's ability to work in school, from scuffles with friends to bereavement and divorce. This section of the day reiterated the importance of one of the main lessons I have taken home from the first half-term of my placement – know your students. Establishing a baseline relationship with all of the children helps us to identify potential red-flags and changes in behaviour and, though many of these changes could be a natural consequence of puberty, it is important to see them and to take note. Lastly, we discussed the non-curricular life skills that we hope our students will learn, such as empathy, resilience and assertiveness. The session reminded me that, whilst the 6'2'' Year 11's might not always seem it, they are children, and they are vulnerable to the turbulences of life. A teacher's job is to care for their students, academically and emotionally. Emily Hunter proved that when it all goes down, we will still have our voice.
Emily Hunter trained as a Drama teacher and taught over a period of 10 years in schools in Cheshire. She has delivered CPD for trainee teachers and experienced teachers at universities and SCITTS across the North West as well as nationally for unions including the NASUWT and the NEU. Her training focuses largely on behaviour management with specific focuses on the use of body language and use of voice as well as the importance of considering the role of the teacher in teaching 'the whole child'.